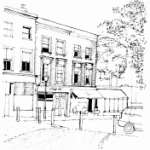 Welcome to the Belsize Residents Association website.
The Belsize Residents Association is a group of over 500 households who seek to preserve the character of the area by keeping a close eye on planning and environment issues. We work with local public bodies to improve the quality of local services and we promote a greater sense of community by providing information about local issues and holding social events. We publish a quarterly Newsletter and an annual booklet of recommendations for local Tradesmen You Can Trust.
Find out more About Us, About Belsize and our Current Issues and join the BRA now.
Details of our Data Protection Policy, may be seen here.
Belsize Society
In our February newsletter, it is stated that the Constitution for this new society, to be adopted at the AGM on 10th March, is available on our website. Please read it here.