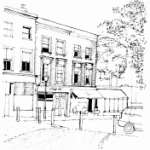 Welcome to the Belsize Society website.
The Belsize Society is a charity of over 500 household members who seek to preserve the character of the area by keeping a close eye on planning and environment issues. We work with local public bodies to improve the quality of local services and we promote a greater sense of community by providing information about local issues and holding social events. We publish a quarterly Newsletter and an annual booklet of recommendations for Tradesmen You Can Trust.
Find out more About Us, About Belsize and our Current Issues and join the BRA now. Details of our Data Protection Policy, may be seen here.
For updates on 100 Avenue Road, see Current Issues page.
The Belsize Society: next steps
You will see us gradually making changes over the coming months as the BRA becomes the Belsize Society. Many aspects will not change;  TYCT 2019 has been distributed to members as usual,  and we're hosting our Summer Party in June. Now we're busy working on changes to the website and marketing material for the Belsize Society and are letting the organisations we work with, know about the changes. We have begun to give the Society its own look and feel.
Society committee members are reaching out to similar charitable amenity bodies to find out more about being a charitable organisation, to help support us as we develop policies for the Society. We will start with the BRA policies and develop them to ensure they are consistent with charitable objectives. There will be some changes to membership processes, such as incorporating Gift Aid, a request for which will be added to our joining forms and, in the Autumn when annual subscriptions reminders are sent, we will establish arrangements for on-going members. (Our bank account remain the same, with the bank accepting payments to the BRA, so no need to change standing orders etc.)
We do need help! If you can spare time, provide expertise or give support, then please do get in touch with us at info@belsize.org.uk. 
N.B. BRA information is now available on the BRA Archive pages.
Please be patient as our website, including checking all links,  continues to be updated.