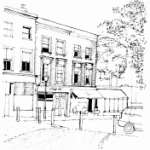 Welcome to the Belsize Residents Association website.
The Belsize Residents Association is a group of over 500 households who seek to preserve the character of the area by keeping a close eye on planning and environment issues. We work with local public bodies to improve the quality of local services and we promote a greater sense of community by providing information about local issues and holding social events. We publish a quarterly Newsletter and an annual booklet of recommendations for local Tradesmen You Can Trust.
Find out more About Us, About Belsize and our Current Issues and join the BRA now.
Details of our Data Protection Policy, may be seen here.
100 Avenue Road update:

see Current Issues page
Belsize Society formed as Belsize Residents 

Association takes charitable status
On Sunday 10 March, the Belsize Residents Association took the decision to become a Charitable Incorporated Organisation, voting to become the Belsize Society.
The Association was set up in the early 1970s as the Three Roads Association to oppose the Motorway Box road scheme that threatened to cut Belsize in half and damage important heritage assets.
Becoming a CIO provides a more modern structure to continue the important work BRA does, and the CIO will be not-for-profit, non-political and membership-run as the BRA was.
Over the past four decades the organisation has sought to represent the views of the community on planning matters and other local issues, especially on local services. The new CIO will continue the BRA's activities such as organising events about the history and heritage of Belsize and engaging about what matters to the community.
The Constitution for the new society is available on our website. Please read it here.
For more information, please go to Current Issues page.
Please note:
Our website will gradually be updated for the Belsize Society.
Please be patient!
BRA information and records will still be available on an Archive page.