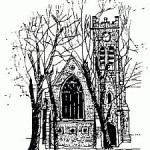 Over 500 households belong to the BRA, mainly living between Lyndhurst Road, Adelaide Road and Fitzjohn's Avenue and the borders of Fleet Road. But membership is open to any interested household anywhere.
BRA members:
The annual subscription is £10 per household. To receive a membership form, please contact the Membership Secretary at the address below or download and print this form.
Anne Stevens, Flat 1, 20 Netherhall Gardens, London, NW3 5TH
Email: membership@belsize.org.uk
Telephone: 020 7794 0874
For details of our Data Protection Policy, please see here.