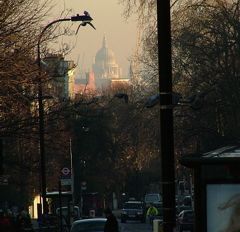 Belsize Park is a north west London suburb in the Borough of Camden. It is between Hampstead, Gospel Oak, Primrose Hill and Swiss Cottage. The name comes from the Belsize Estate, although modern Belsize also covers the northern half of the Chalcot estate. See the history of Belsize here. The Belsize Walk is a very good way of getting to know the area and Camden Council has produced a excellent leaflet explaining the buildings on the route, see here.
The area is mainly residential and includes an abundance of distinctive architecture, particularly from the Victorian period, in wide tree lined roads. Most of the residents live in flats, either converted or purpose built. Whilst the majority of properties are privately owned, there are about one thousand units of social housing in the wider Belsize area. Most of Belsize is within the Belsize Conservation Area (CA), the Parkhill and Upper Park Conservation Area and parts of the Fitzjohns-Netherhall Conservation Area.
The area is covered primarily by the Belsize Ward along with parts of Haverstock, Gospel Oak, Hampstead Town and Frognal and Fitzjohns wards. To contact local councillors see here, and to access information about Camden Council's services see here.
There are three local shopping areas: Belsize Village, Haverstock Hill and England's Lane. These include a number of independent shops as well as restaurants, cafes and bars.
There are many independent schools, both primary and secondary, in, or close to, Belsize. However, there is no state secondary school in the BRA area, although the UCL Academy is on the borders. For historical reasons there has been no secular state primary school in Belsize Ward. A secular state free school, Abacus Belsize Free School, opened in temporary premises in Belsize in 2013, but its permanent site from 2018 will be just outside the Belsize area, in the old police station on Rosslyn Hill.